Pavel Shuvaev: «I'm not Maysky and I'm not going to hold on to this character forever»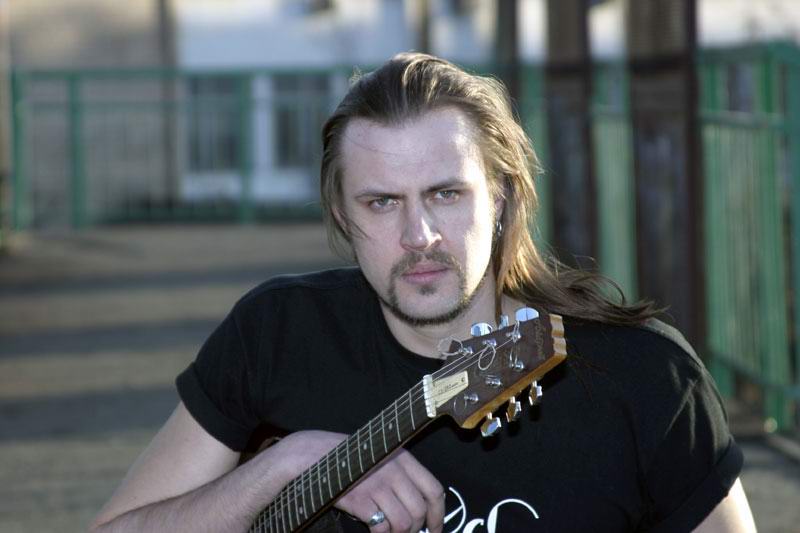 For most of the regular spectators of the Channel One who watch the project "The Trace" major Sergey Maysky has become one of their favourites. But who's there under this surface? This was one among other questions which our interviewer asked Pavel Shuvaev - actor and musician.
- Pavel, first of all you are the founder and the front man of the band named «OddisS». But you have become famous after you entered the series «The Trace». And there was the career of a stunt man and a model before that. So who are you - Pavel Shuvaev?
- Who am I? It's an interesting question. First of all I would like to - and I should do so - answer it to myself. Frankly speaking I thought about that a lot. I was kind of digging through myself and in the end came to a conclusion that trying to evaluate my own actions and giving any kind of epithets (let them be pleasant or not) to myself are two different stories. The second one means great responsibility of some special kind. At least I can say Pavel Shuvaev is creative personality. The one trying to become better. Alive and with his own sins. Sometimes he is hard to deal with. Of course sometimes he's like a kid. But I hope he's not a bad guy after all. I think it's too early to dwell on the theme. The time will show us.
- Your education in the theatrical field is not completed. Why did you decide to give it up? Were you afraid of loosing liveliness? Or did the theory just seem boring to you?
- «Not completed»? I would say «hardly started». Every day I grow more and more convinced that having a diploma does not mean much in the profession of an actor. What an actor should be like? There is no certain definition of the profession because it is a total stranger who will judge you in the end - a spectator - not you or any of your teachers or commissions. You shouldn't stop learning about this profession even for a moment. I suppose it's about any other profession as well. You may show your diploma to everyone but it wouldn't impress anyone. For example I do not have musical education either. But look at me - I sing. And some people even like it. And what do you mean by «loosing liveliness»? I had it yesterday but today in the morning it just disappeared? I never thought of such things you know. Theory means stamps for an actor. And I am against stamps.
- It has became fashionable to invite people without theatrical education such as famous sportsmen or musicians to act on the stage or in movies. What do you think caused this tendency?
- I don't know. By the way this may be referred to me as well. Of course I'm not a famous sportsman or a music star. Maybe there aren't enough actors. Or it may be somehow connected with the ratings. Show business and cinema industry nowadays are about business, business, and business. It doesn't matter what is the person. The most important thing is that person being popular, the public's interest in the person. And it doesn't really matter what this interest is caused by. It all depends on public I think. We can speak of it forever. But as we don't have that much time I'll make just one more supposition - maybe everyone is searching for young or not very young but talented people? It is very much individual I think because there really successful examples of changing of the field of activities. Yeah.
- A new project of the Channel One «The Trace» started in 2007. You are major Maysky there. What were the probes like? How many other candidates for the role were there?
- The casting was like any other. A lot of text and extremely little time to memorize it. No one explains what part you should play or how you should do it. Several short takes. "Thanks. We'll phone you later». I went away not very much pleased with myself and forgot of it all in 15 minutes. There had been a lot of such probes before and all of them ended in nothing. But then they really phoned my in about three days. And there I was major Maysky in another 10 ten days. Later I learned that there were a whole lot of other actors for the role. They were nearly desperate to find someone suitable. And then - got you!.. or should I say «got me»? So things happen...
- You character is very different from the ones other in the series. It is due to not only you rockers looks. Your biker's jacket, earrings and long hair do there job you know. Your character brought so to say a new stream to the series. What did you do to create the image of major Maysky?
- Different from the others? Well if to speak of his appearance maybe. Biker's jacket, earrings and long hair were already with me when I came to the probes. I didn't have to change anything about that. I think all of our actors are very different from each other. All of my «The Trace» colleagues are great guys and the characters created by them are interesting and lively. Speaking of my character I didn't have much time to create him. There were about three rehearsals and that's all. Our first Director - Vsevolod Aravin - just briefly explained each of us the direction of our work and it all began. The work with major Maysky is still going on even now. And it won't end while the project exists. Or till I leave the project.
- I know that the fans of «The Trace» often criticize you for some of Maysky's actions forgetting the fact that you are an actor having a script. On the other hand it means they do not make any difference between you and your character. Do you see any reasons for that?
- I'm not an expert in this field. Maybe you should ask Maysky about that. I think that it isn't a rare thing. Many actors come across the problem. What can be done about that? I do not overreact. I'm not Maysky and I'm not going to hold on to this character forever. Even though I feel really great playing this role. I'm grateful to Maysky for everything but I need to move and that's what I'm trying to do. Thank God there are and I hope there will be other roles. And so the spectators' vision of me would change.
- How did your life change after «The Trace»?
- Why after? It is still being shot. It's on air. I would be able to answer this question only when that «after» will happen. And now there is a lot of job and very little time. «The Trace» is my life and the life of my colleagues during the last year and a half. My group is close to ðàçâàë because of it. But everything will be ok.
- I know that once you took part in some theatre projects. Do you work in this direction now?
- Not right now. Though I'm willing to. I don't have time. The matter is that I take part in several other projects except for «The Trace». So there's no room for Theatre to which you have to devote all of yourself. As to any other thing you do. If there were some theatrical enterprise...
- How does Pavel Shuvaev spend his free time?
- Mostly he sleeps. Sometimes in the evenings he goes somewhere. Sometimes meets with his friends. Or goes to dacha with Mom and brother. And there he digs-mows-saws. And then he sleeps.
- And the traditional question: what are your plans for the future?
- Sleep! Sleep. Sleep... there will be a shooting in the morning. But, seriously - I have to find new musicians for «OddisS». Record our second album. As you can see, there lots of plans. I would say Napoleon's plans. But, where to get strength ... ?
Interviewer - Evgeny Kudriats
Newspaper "Horizon"
March, 18, 2009
(translated by Daria Shomakhova)