Paul Shuvaev in the TV program «Rock-sight» on «Radio of Russia»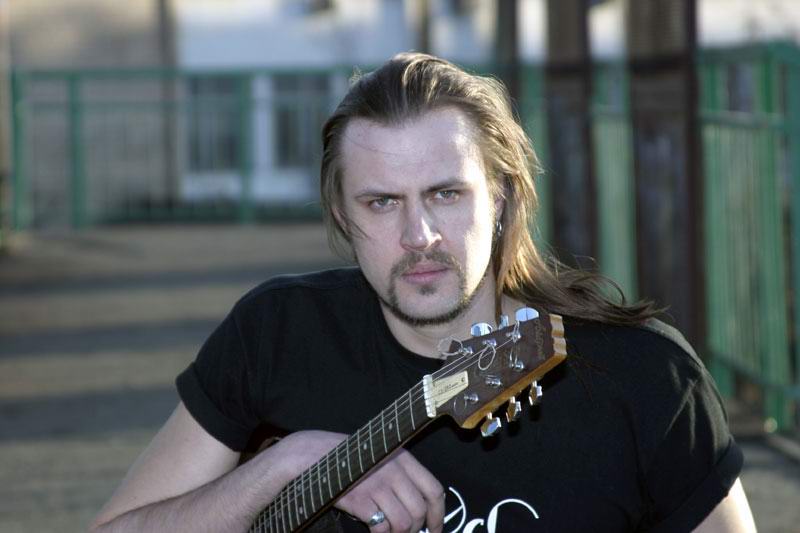 And now we are going to get acquainted with one more group. Unlike the heavy metal musicians from St. Petersburg «STALWART» who work in an unusual style and sing in English, this group from Moscow named «OddisS» sings in Russian. Their style is often recognized as epic metal. The group isn't well known among the listeners of heavy music yet. Their first album «The Young God»" was released not so long ago - at the beginning of May. The group's leader, their front man and the author of all of their songs is Pavel Shuvaev. He's famous for his actor's career. You could have seen him in the fim «House of fools» by A. Kontchalovsky and in series «The Trace» and «The Lawye». Aside from his actor's activities Pavel has always been interested in rock music so the creation of his own rock-group was on of his dreams come true. And now Pavel Shuvaev will introduce «OddisS» to our listeners and will tell us about their first album.
Pavel Shuvaev:
The group's name is «OddisS». There are double «D» and double «S» in the word. Double «D» means «ode» which is a praising poetic composition and «Odyssey» which means a trip. So all together it is something like «poetic trip». In 1999 our guitarist Artiom Rukavitchkin and I decided to try a musical experiment - to make something metal-guitar out of my creations.
And our style... I never tried to define our style because I don't see any difference. The main thing is what you want to say. And the way you say it is secondary. Our fans who come to our concerts, communicate on forums defined our style as Russian epic metal.
Why did we choose «CD-MAXIMUM»? Well, we know it is a leading label in our country speaking of heavy music to which we are related in any case. And we couldn't even imagine that one day will sign a contract with them. But nevertheless our album was released.
Today "OddisS" and me Pavel Shuvaev the leader and front man present our first album "The Young Gods". You can find songs of different periods of the group's existence. But all of them are recorded in one and the same studio and in one and the same period. There was a lot of work with the recording, audio mixing, mastering, and arrangement. The album is a result of the hard work of a lot of people, of good musicians. You should listen to it. And I think you'll like it.
There are certain difficulties connected with the fact that I'm an actor by profession and a musician by vocation. Acting is my job and music is my life. If one day I had to choose between my job and my vocation I would no doubt choose music. I've never written a song on a principle - here's an idea to write a song about this and about that. The very name «Enola G» is a short version of «Enola Gay» - the name of the plane which bombarded Hiroshima. There an interesting allegory in the song - the pilot and the bomb are like some kind of relatives. I mean that the pilot lieutenant Paul Tibbets named his plain after his mother. So Enola Gay is a real woman who was the mother of this pilot. So I made a comparison how the woman named Enola Gay gave birth to the pilot-killer and the plain "Enola G" gave birth to the bomb.
(The prelude to the song «Enola G» begins)
«OddisS» and me, Pavel Shuvaev, special for «The Rock-Sight»
Dmitry Dobrynin,
(May, 19, 2008)
(translated by Daria Shomakhova)