Maiskiy SHUVAEV Pavel – stuntman, actor, sword fighter, and major of GRU in serial «Track»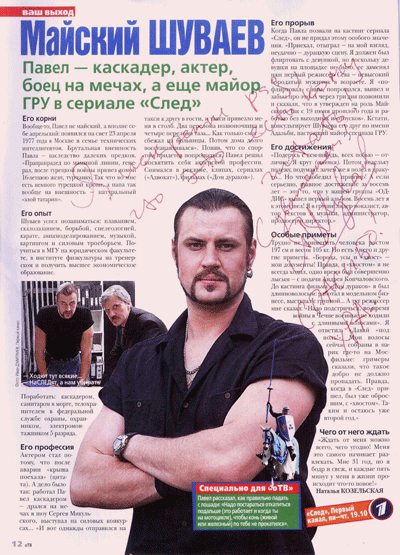 His ancestors
Generally, Pavel not May, but April. He was born the 23 of April 1977 in Moscow, in family of technical intellectuals. Brutal appearance of Pavel is an inheritance of distant ancestors. "Grandgrandfather on a mother line, general, after Turkish war brought home wife, turk and she was 16. So, there is a bit Turkish blood in me, and a dad so in general on appearance is natural «wicked Tatar».
His experience
Shuvaev went in for sport like: swimming, rock-climbing, fight, speleology, carate.Engaged aeromodeling, music, carting and power triathlon. He studied in MGU on the faculty of law, in the institute of physical education on a trainer's and he got higher economic education.
He worked like: stuntman, hospital attendant in a morgue, body-guard in federal service of guard, electrician of 5 digit.
His profession
Became an actor because after a failure a «roof went» (quotation). And business was so : Pavel worked like a stuntman, he fought on swords in Sergey Mikulskiy show and took part in power competitions. "And once left on a taxi to the friend, and a taxi brought me in a post. Two breaks of backbone and four breaks of pelvis. As soon as able - ran from a hospital. And I long restored at home". Pavel understood that to sport he must to say goodbye, and decided to devote to the actor's profession.
He was taken off in advertising, clips, serials ("Advocate"), films ("House of fools").
His breakthrough
When Pavel have called on a casting of a serial "Track", he hasn't given to this offer special value. «Has arrived, has won back - in my opinion, it is unsuccessful - a foolish scene. I should flirt with the girl but as girls on platform weren't, she was replaced with our first moviemaker Seva - low bearded aged man. I «flirted» with him, then said goodbye, left and have forgotten about it. And in three days they have called and have told that I was confirmed for a role Maiskiy. So since June, 19th of last year also I work without days off and holidays». By the way, advises Shuvaev his friend by name of Adalbi, the present major of special troops GRU.
His achievements
«I fight with somebody, all I beat - perfectly! I am abrupt (laughs). Then a week I will lie down, I will think: why I got into fight ... But that I have won - pleasantly! And if it is serious, the main achievement for eight years is that our group "OddisS" had a first album. Eight years I have gone to it! In group I'm the leader-vocalist, the author of texts and music, the manager, the producer and the director»
Special signs
It is difficult not to notice the person growth of 197 sm and with weight 105 kg. But he has and other signs. «A beard, moustaches and «tail»- my documents! However, I don't always been with «tail», at one time I was absolutely bald - from offer of Andrey Konchalovsky's. Before a film casting « the House of fools » I was long-haired: worked in model business, acted with group ... And here the director has told to me:« It is necessary you to have short hairstyle. During war in the Chechen Republic military men didn't go with long hair ». I have answered: «Ok «under a zero!». My hair are collected in a wig somewhere on Mosfilm now: make-up artists have told that such good hair shouldn't vanish. However, when I came to «Track», I was already been with «tail». Such also I remain the second year.
What is expected from him
«You can wait from me everything! It's most entertained me. I'm 31, but I am vigorous and fresh, and each five minutes in my life I have something new!»
Natalia Kozelsky
Article in magazine «ÎÒV» ¹29
(On July, 14-20th 2008)